Celeb News
Minnie Dlamini Dragged For Saying She Has Been A Fan of Noxolo Grootboom From The Age of 4
Minnie Dlamini Dragged For Saying She Has Been A Fan of Noxolo Grootboom From The Age of 4. It goes without saying that Noxolo Grootboom has inspired a lot of people. The veteran news reader recently retired after working for 37 years for SABC. Since a week ago, Mam' Grootboom has been showered with the most beautiful farewell messages. The coolest thing was when President Cyril Ramaphosa moved his nation address to a later time, just to give fans the chance to see Mam' Grootboom do her final news bulletin.
A lot of our celebrities also joined the well wishers and spoke about how they have been inspired by the veteran journalist. One such celebrity is Minnie Dhlamini-Jones who spoke highly of Mam' Grootboom. The media personality took to Twitter to declare Mam' Grootboom a legend, and also added how old she was when she started being a fan of the veteran. Mrs Jones said her mother told her that she used to be excited every time she saw Mam' Grootboom on the screen, and she will scream her name around the house.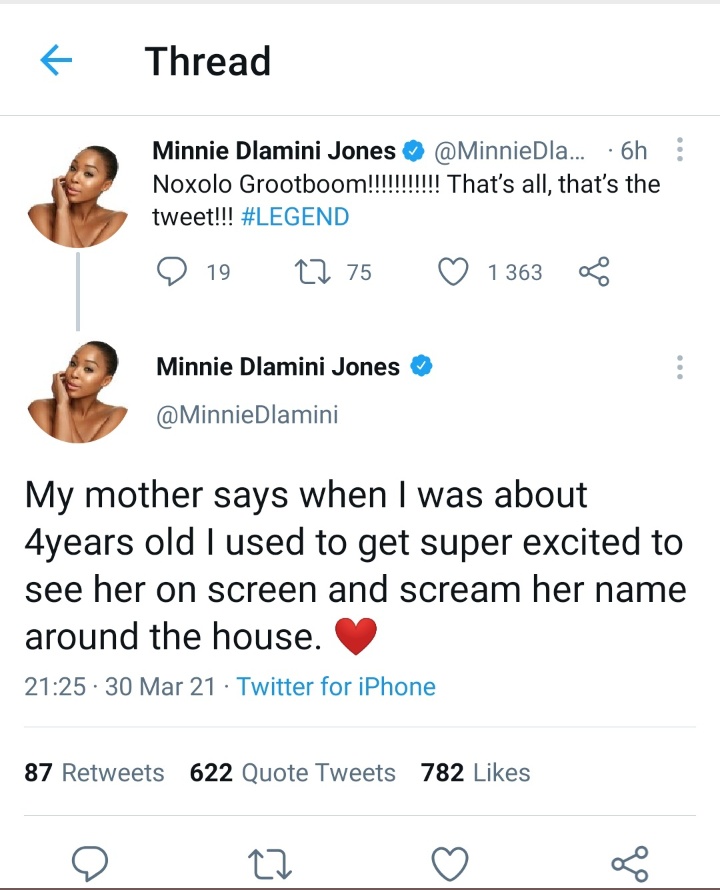 Tweeps immediately got on Minnie's case, wondering how at such a tender age she knew what Mam' Grootboom was all about. She has since deleted the tweep, but it was a little too late as people had the screenshot.