Celeb News
Enhle Mbali Takes The Fall For Phat Joe
Enhle Mbali Takes The Fall For Phat Joe. No day goes by without celebrities getting dragged on Twitter. Just the other day, Gerry Elsdon found herself in hot water, after airing her opinion about homosexuality. The veteran media personality, who is also a pastor, pointed out that the word of God, regards homosexuality a sin.
Gerry said this on 1Magic new reality show, Cheeky Palate, which is presented by Phat Joe. The LGBT community was not happy at all, and even today, Gerry is still being dragged. Phat Joe, who is always followed by controversy, wasn't spared either. Those, who found Gerry's statement offensive, wants the show to be canned as soon as possible.
Enhle Mbali, came in and asked South Africa to give Phat Joe a break, The actress says Joe, is amazing on scree, and insinuates, people are just too sensitive. Enhle couldn't stand the heat from angry tweeps, and deleted her tweet immediately after posting.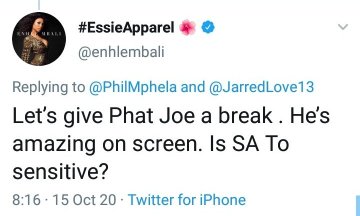 Check out some of the comments directed at Enhle.