Celeb News
Ouch! Boity Thulo Responds With Major Shade After Being Told She Looks Old For Her Age
Ouch! Boity Thulo Responds With Major Shade After Being Told She Looks Old For Her Age. Tweeps never learn hey. A lot of the times they take on celebrities, and in turn receive the most lethal clap backs and shades.
One celebrity who gives as good as she gets is Boity. Granted, she is one of the nicest celebrities in the country, but can give it to you when provoked. The award winning rapper, media personality and actress recently shared a beautiful pictures of herself, and of course the comment section went wild.
Although most people applauded Boity for her looks and beautiful natural hair, one Twitter user was left less than impressed.
"U look way older than me, but u my age, how is this even possible," the tweep said. Boity dug out a picture of the tweep, and boy, if that's her, she doesn't even come closer to looking as fresh as Boity. She captioned the picture, "This you?" Talk about being served!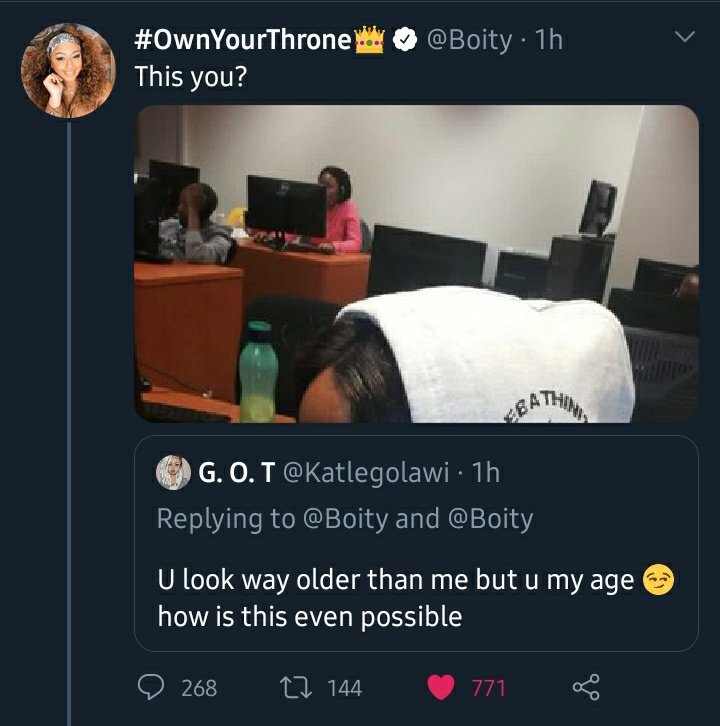 Files!!