The Queen February 2018 Teasers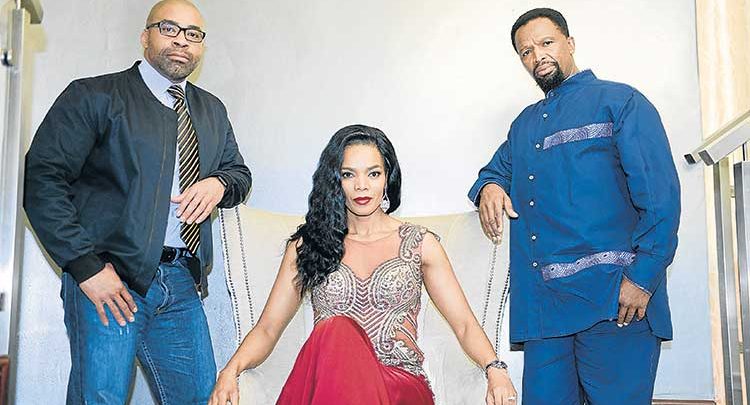 The Queen February 2018 Teasers. See what to expect on The Queen this February 2018.
Thursday 1 February 2018
Episode 134
Messy Love
Refilwe is having a hard time at school. Shaka finally breaks ties with Mmabatho. Vuyiswa is freaking out about Bakang's behavior.
Friday 2 February 2018
Episode 135
Powerful Passions
When Vuyiswa learns that Bakang came close to telling Jerry the truth, she decides to nip the situation in the bud. Shaka finds it hard to let Mmabatho go.
Monday 5 February 2018
Episode 136
Vuyiswa's Surprise
Kagiso warns Shaka to stop seeing Mmabatho. However, Shaka and Mmabatho are still together. Vuyiswa receives shocking news.
Tuesday 6 February 2018
Episode 137
Secrets Hurt
Shaka mixes pleasure and business, to his detriment. Vuyiswa is rocked by the truth of her situation. Kagiso warns Shaka that Harriet will find out the truth if he is not careful.
Wednesday 7 February 2018
Episode 138
Strain
Brutus gives Mjekejeke an employment ultimatum. Mmabatho must choose between her aunt or her new love. Vuyiswa finds herself caught between Jerry and Bakang.
Thursday 8 February 2018
Episode 139
Purity
Just when Gracious thinks she is done with the Khoza men, Mmabatho reels one in. Shaka is caught off guard by Mmabatho's confession.
Friday 9 February 2018
Episode 140
Hard Choices
While a worried Brutus is desperate to find out where Shaka is, Shaka gets the shock of his life at his romantic weekend getaway. Vuyiswa decides to come clean. Gracious gets ready to step out into the dating world!
Monday 12 February 2018
Episode 141
Brand New Kiss
As Shaka and Mmabatho get closer, the lies to their families also deepen. Brutus thinks he is onto Shaka. Bakang and Martha find themselves in an unexpected situation.
Tuesday 13 February 2018
Episode 142
Emergency
Gracious smells a rat when it comes to her niece. Can Martha resist Bakang's charms? Vuyiswa takes a nasty fall.
Wednesday 14 February 2018
Episode 143
Love Child
Jerry finally learns the truth about Vuyiswa. Mmabatho tries to break up with Shaka. Bakang and Martha agree to no strings attached.
Thursday 15 February 2018
Episode 144
Loving by Lies
Vuyiswa begs Jerry to keep her secret. Shaka and Mmabatho get more frustrated when Gracious hires someone to drive Mmabatho around.
Friday 16 February 2018
Episode 145
The Proposal
Shaka meets an old acquaintance and is led into the devil's backyard. Meanwhile, a massive surprise awaits Vuyiswa.
Monday 19 February 2018
Episode 146
Danger and Passion
Mmabatho makes a surprise visit to the Khoza mansion. Bakang confronts Vuyiswa.
Tuesday 20 February 2018
Episode 147
Vetkoeks and Heartbreaks
Onica threatens to derail Shaka's commitment to Mmabatho. Jerry makes a surprising proposal to Vuyiswa, while Vuyiswa is surprised by Bakang's new love interest.
Wednesday 21 February 2018
Episode 148
Friends with benefits
Shaka continues his shenanigans with Onica. Refilwe continues giving Vuyiswa a hard time.
Thursday 22 February 2018
Episode 149
Spy at dinner
Vuyiswa and Refilwe go head to head and one of them ends up on Jerry's bad side. Martha is heartbroken. Shaka makes a serious decision while his family guns for the love of his life.
Friday 23 February 2018
Episode 150
Daddy Issues
Gracious makes a discovery about Mmabatho's private life that causes chaos. Refilwe apologizes for going too far. Bakang overhears something that changes his life.
Monday 26 February 2018
Episode 151
Deep in Lies
Bakang instructs Vuyiswa to tell Jerry the truth. Onica makes a dramatic visit to the Khoza mansion.
Tuesday 27 February 2018
Episode 152
When Hearts Break
Mmabatho lands herself in danger at the Khoza mansion. Bakang decides to finally come clean. Vuyiswa's situation brings her more pain.
Wednesday 28 February 2018
Episode 153
Taken
Vuyiswa's appreciation for Bakang grows. Shaka is devastated as he receives the second rejection. Meanwhile, Gift reunites with an old enemy from the past.
The Queen is on Mzansi Magic on Mondays to Fridays at 21h00.