Banking safely on your mobile device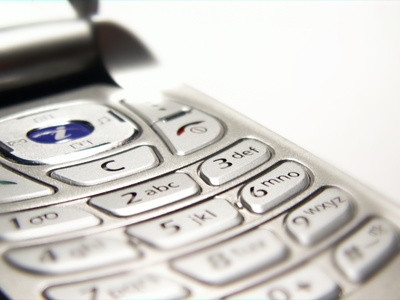 FNB provides customers a choice of Mobile Banking channels that allow them to perform everyday banking activities at their convenience available 24/7. The choice between FNB mobile banking channels will be dependent on the device used and the needs of the customer.
As Mobile Banking continues to surge in customer usage, customers need to make sure that they are aware of the safety measures that they need to take to ensure they do not compromise their personal banking details.
"FNB calls on all customers to be aware of the fraud mechanisms used by fraudsters' to defraud customers. The first step in the safekeeping of personal banking information is to NEVER disclose a Login PIN, User ID, Password or One Time PIN (OTP) to anyone," says Dione Sankar, Head of Cellphone Banking and Messaging at FNB.
The FNB Mobile Banking channels are accessed in the following ways: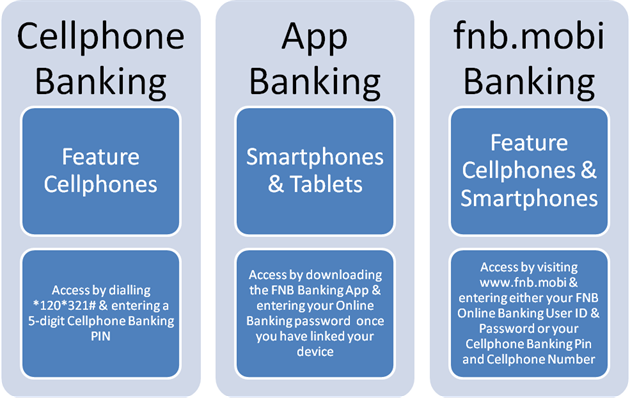 "Fraudsters continually try new approaches to gain confidential banking information that will allow them access to defraud a customer via Mobile or Online Banking channels. Avoid falling victim to such scams by being extra vigilant," says Sankar.
Be on the watch for the following methods and scams used by fraudsters:
Phising: Customers are tricked into divulging their information via email.
What it looks like:
An e-mail message or pop-up window that includes official-looking bank logos.
An e-mail that includes web links to FNB.mobi or FNB Online Banking.
An e-mail posed as a security alert that request personal information.
An e-mail posed as a rewards statement that request personal information.
An email that notifies of a payment or deposit into your account followed by a web link for payment verification.
Smishing: Customers are tricked into exposing information via SMS.
What it looks like:
A random SMS sent by a fraudster who is waiting for a response.
A SMS suggesting that the customers' details have been compromised and that the bank needs the personal information to stop the fraud.
Vishing: Customers are called and tricked into divulging their information.
What will happen:
A random SMS stating that a bank official will contact you to verify or update your details.
A fraudster who calls, claiming to be a bank official.
The latest Vishing trend includes fraudsters claiming to be South African Police Officers. Instead of a sms stating that the customers will be contacted by a bank official, customers are being threatened into providing their personal details or face being arrested.
SIM Swaps: A fraudster contacts the network operator and reassigns the cellphone number to a new SIM in order to gain access to confidential information, e.g. OTP (One Time PIN) SMS.
What will happen:
A fraudster impersonates the customer and calls the network operator and reports that the SIM is lost or stolen. This will result in a new SIM being activated with the customer's number. The old SIM will be de-activated. All messages including messages containing personal info will be sent to the fraudster thereafter.
A fraudster could call, claiming to be from the mobile service provider. They might request that the phone be switched off for maintenance purposes. The customer is advised to urgently contact their service provider if this occurs.
Change of Details
If you have a new cellphone number, update your cellphone number for the inContact service and Cellphone Banking at your nearest FNB Branch or via the Cellphone Banking Help Desk by contacting 087 575 9405. You will need to first go through a verification process, for your safety, before any of your details can be updated.
"As custodians of our clients' money, safety and security is of paramount importance. As a bank we can only fight the battle against fraud if customers assist us by keeping personal information safe as well as always being weary of possible scams," concludes Sankar.
General hints and tips
Never reply to the number that is provided in the SMS from a random sender requesting personal bank information e.g. PIN information, password information.
Never get engaged in a conversation with someone whom you think might be a fraudster.
Never give out confidential information via E-mail, SMS or on a call.
Immediately contact your bank should you suspect any fraudulent activity on your account.
If you suspect a SIM swap:
If you no longer have network access, or you suspect that a SIM swap has been done on your number and possible fraud could take place, contact the FNB fraud team on 087 575 9406 to ensure that the cellphone number is blocked on FNB's system.
Never store your PIN and passwords on your cell phone.
Change your Cellphone Banking PIN and Online Password on a regular basis.
Never access your account or change your details via a link or a saved page. You should always type in the website address www.fnb.mobi on your cell phone web browser.
FNB Mozambique has been awarded the PMR.Africa Golden Arrow award 2013 for Personal Banking Excellence. The awards were conferred by PMR Africa (Performance Management Review), a research consultancy, at an awards ceremony held in Maputo yesterday.
??
Rated by over 150 CEOs, MDs, business owners, company directors, and Government officials based in Mozambique, the award recognizes companies and institutions that have done the most in their sectors over the past 12 months to stimulate the economic growth and development of Mozambique.
On receiving the award, FNB Mozambique CEO, Warren Adams, acknowledged the honour and noted the significant role their customers have on their success. "We are honoured by this award. But more important for us is that our customers see value in banking with us.
"Our customers are in the driving seat and we need to ensure that we continue to deliver a service that will add value to them, by looking for new ways to make our customers lives that much easier, every day," concludes Adams.