ETV Scandal November & December 2017 Soapie Teasers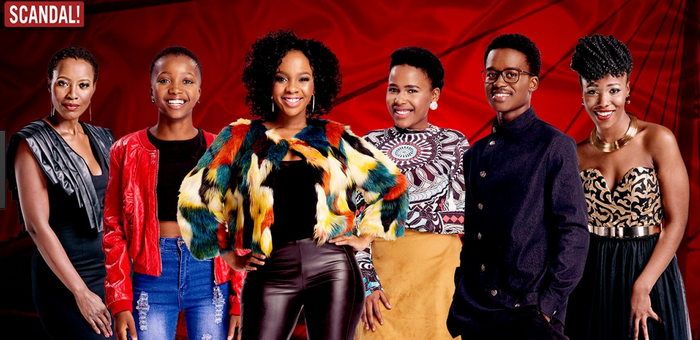 Here is what to expect on ETV Scandal in  November & December 2017….
Wednesday 1 November 2017
Episode 2901  
Yvonne is the unwitting victim of a plan, and Boniswa is the recipient of a stunning confession. Wesley and Layla find themselves in turmoil. Romeo defends his mother against the exploitation of her pain.
Thursday 2 November 2017
Episode 2902  
Real emotions cause a change of heart, leaving only one woman to be thrown under the bus. Layla withdraws from a current situation in order to manage her messy past. Quinton commits himself to laying down the law.
Friday 3 November 2017
Episode 2903  
Yvonne believes her life is over, but is thrown an unexpected lifeline by a friend. Quinton is horrified by the complications in the life of someone close to him. Grace defends a woman who initially upset her.
---
Monday 6 November 2017
Episode 2904  
Yvonne realises she has struck gold, but needs to get her hands on it. Romeo gains some insight into an evil which has affected his life. Quinton refuses to discuss the past.
Tuesday 7 November 2017
Episode 2905  
Yvonne throws the cat amongst the pigeons with an astonishing photograph. Romeo makes an unthinking revelation and an unfounded accusation. A gift throws Layla into further turmoil.
Wednesday 8 November 2017
Episode 2906  
Boniswa refuses to believe a declaration, and Siseko issues a stinging ultimatum. Romeo is surprised by some sudden and unexpected feelings. Layla crosses a line which can only increase her confusion.
Thursday 9 November 2017
Episode 2907  
Some tension flares up in a relationship, and the potential for a love triangle becomes evident. Quinton realises he made a mistake by agreeing to a meeting. Siseko appoints a spy.
Friday 10 November 2017
Episode 2908 
A newspaper article is the inspiration for a dastardly plan. Quinton's attempt to take control of someone else's life backfires on him. Two women are blissfully unaware that their scheming is being observed.
---
Monday 13 November 2017
Episode 2909  
Dintle unveils a diabolical plan, and Grace has her suspicions confirmed. Layla discovers that her procrastination has cost her dearly. Boniswa makes it clear that she is not in a forgiving mood.
Tuesday 14 November 2017
Episode 2910  
Dintle and Freddie are alarmed when an unexpected stumbling block pops up to hamper their plan. Two rivals meet for the first and last time. The unlikeliest of unlikely truces is called.
Wednesday 15 November 2017
Episode 2911 
Quinton is dismayed by the idea of a possible lie, and Dintle is horrified by the possibility of a confession. Maletsatsi has some concerns about herself, and receives an offer of assistance. Boniswa's patience is sorely tested.
Thursday 16 November 2017
Episode 2912 
A lie produces huge relief, but a mother receives a very nasty shock. Suspicion falls on a highly unlikely suspect. Neo receives a phone call which clearly upsets him.
Friday 17 November 2017
Episode 2913
Threats are traded and Zinzile finds herself reaching out to someone she dislikes intensely. A false accusation of a serious crime is made. Mlungisi takes note of a shady conversation.
---
Monday 20 November 2017
Episode 2914
A mother's determination to protect her child causes strain and disagreement in several relationships.  Mlungisi steps up on behalf of a family member. Neo starts to woo an unlikely candidate to be his friend.
Tuesday 21 November 2017
Episode 2915    
Dintle makes use of technology to initiate a very nasty plan. Maletsatsi is confronted with a mortifying and extremely worrying truth. Mlungisi finds himself being drawn into an unnerving situation.
Wednesday 22 November 2017
Episode 2916  
Accusations are thrown around, none of which are true, but all of which have consequences. Maletsatsi panics, but is determined to keep her fears from the world. Mlungisi walks in on a bizarre situation.
Thursday 23 November 2017
Episode 2917  
A truthful explanation is not believed, and an accusation leads to confusion. Phindile is puzzled and upset when a friend seems to be turning against her. Mlungisi displays uncharacteristic behaviour, which an unlikely ally tries to explain away.
Friday 24 November 2017
Episode 2918  
Romeo is determined to get the truth, but someone else reveals it before Romeo finds out anything. A wardrobe mishap creates major concern. Zinzile is not happy when she is fed excuses.
---
Monday 27 November 2017
Episode 2919      
Quinton is rebuffed by one woman when he tries to apologise, and threatened by another when he refuses to back down. Stokkies takes the blame for something he didn't do. Concerns are misinterpreted in the hotel.
Tuesday 28 November 2017
Episode 2920  
Quinton sets a record straight publicly, and Lindiwe refuses to believe a truth. Eddie has some extremely distressing news for the Ngemas. Mlungisi takes a risk, and is bust.
Wednesday 29 November 2017
Episode 2921    
Dintle is given a life line and a warning, and Lindiwe is told something which breaks her heart. Eddie is relieved to hear that others also know about a problem which concerns him greatly. Timothy believes he is witnessing yet another crime in the hotel.
Thursday 30 November 2017
Episode 2922 
A young man is rejected by two very different women in the course of one afternoon. Maletsatsi receives life changing news and makes a very rash decision. Mlungisi sticks to his guns in the face of a warning.
Friday 1 December 2017
Episode 2923  
A truce comes to an abrupt end, but one of the parties is completely unaware that hostilities have been resumed. Maletsatsi panics when she realises she has made a monumental error. Grace is embarrassed by a revelation, but not nearly as embarrassed as Neo is.
---
Monday 4 December 2017
Episode 2924  
Vengeance is sworn, and the Daily Skinner publishes a scandalous photograph. Stokkies makes a boast, which shocks a friend. Neo is too shrewd to be fooled by Mlungisi.
Tuesday 5 December 2017
Episode 2925
Yvonne plays surprise and shock, and plants seeds of suspicion. Stokkies realises that a dream could end before it's really even begun. Mlungisi hopes some food will sort out a problem for him.
Wednesday 6 December 2017
Episode 2926    
A woman is confident of her innocence, but evidence suggests otherwise. Phindile is shocked by the attitude of someone she thought she knew. Zinzile is very surprised to receive some special attention while at work.
Thursday 7 December 2017
Episode 2927
Two women are accused of the same crime, but only one's denials are believed. Stokkies does the right thing, albeit with a heavy heart. A surprise visit shocks the Ngemas.
Friday 8 December 2017
Episode 2928
Yvonne gets unlikely inspiration from a hotel guest, and Boniswa is encouraged to crossover to the dark side. Maletsatsi is surprised by the response to a revelation. Mlungisi is reminded not to underestimate a friend.
---
Monday 11 December 2017
Episode 2929 
Boniswa rejects a radical suggestion, and Yvonne presents Siseko with a miracle. Maletsatsi makes a huge decision about her future. Mlungisi realises he is in a relationship that there is no getting out of.
Tuesday 12 December 2017
Episode 2930      
Boniswa has to agree to a situation which she knows will change her life forever. Ingrid senses that she is not being told the truth by a loved one. A young woman is stunned by her enemy's generosity of spirit.
Wednesday 13 December 2017
Episode 2931  
A normally responsible and law-abiding woman decides to take irresponsible and illegal action. Ingrid makes an unsettling discovery.  Zinzile is determined to win a large amount of money.
Thursday 14 December 2017
Episode 2932     
A well thought out plan goes horribly and dangerously wrong. Ingrid is given a piece of information which turns her world upside down. Gontse realises what she could have lost, and how much gratitude she owes.
Friday 15 December 2017
Episode 2933    
Boniswa has to do damage control in order to prevent a tragedy. Ingrid reluctantly takes a step back in order to protect someone's emotional well being.  Two young women find it hard to move beyond the past.
---
Monday 18 December 2017
Episode 2934   
Boniswa makes a complete turn around and a dangerous decision. Ingrid is determined to find the truth, but is discouraged from doing so. Ndumiso takes a chance, and the outcome surprises Gontse
Tuesday 19 December 2017
Episode 2935    
Yvonne makes a frightening discovery, and Boniswa makes a shocking confession. Ingrid tells a lie in order to cover her tracks. Two women are determined to stand in the way of their family members becoming friends.
Wednesday 20 December 2017
Episode 2936  
A husband tries to protect his wife with a lie, but she makes a shocking confession. A young woman is frustrated in her search for the truth about her past. Zinzile plans to rely on the talent of an elder to help her family change their lives.
Thursday 21 December 2017
Episode 2937      
The disappearance of an unhappy woman is cause for much alarm amongst her family. Eddie unwittingly reveals to a father that his daughter has been lying. Ndumiso is shocked by a sight he never thought he would see.
Friday 22 December 2017
Episode 2938    
A woman who can take no more concedes defeat, and has some distressing news for someone who loves her. Stokkies is unsuccessful when he undertakes a mission on behalf of his boss. The loss of a family heirloom presents Zinzile with a problem.
---
Monday 25 December 2017
Episode 2939   
Christmas is missing its cheer in a home, but one family member perks up when she receives some very welcome news. Wesley is advised to bite the bullet and come clean. It's a good Christmas for another family when a hatchet is tentatively buried.
Tuesday 26 December 2017
Episode 2940      
A longed-for situation does not turn out to be as happy as expected, and a father wishes for his son to get over his heartache. Ingrid is devastated by a shocking admission. Ndumiso's ego is badly wounded.
Wednesday 27 December 2017
Episode 2941      
A woman realises she cannot fill another's shoes, and two people realise they have been set up. Wesley takes a gamble with the future happiness of a loved one. Gloria develops a suspicion which is way off the mark.
Thursday 28 December 2017
Episode 2942      
A trip to an island turns out to be somewhere far less exotic, but much more worrying for Yvonne. Stokkies starts to fear that an obsession could cause emotional damage. Gloria demands information about food.
Friday 29 December 2017
Episode 2943  
Yvonne hates the position she finds herself in, and learns that a man from her past is dangerously upset. Ingrid is given some astonishing information about family. Zinzile discovers she is in competition with someone she can't stand.
Scandal! is on e.tv Mondays to Fridays at 19h30.